UNDER ARMOUR SPORTSMASK

Product DNA
When health officials said healthy people should wear face masks, we started building prototypes until we made the perfect one for athletes. It's got the airflow you need, a cool feel, and the best fit for running or training.
Made from high-performance UA materials, designed to be worn all day & when playing sports
Water-resistant outer shell features smooth, breathable spacer fabric
Anti-microbial treatment on the inside layer to help keep mask fresh
Polyurethane open-cell foam lets air through but makes it hard for moisture & sweat to pass
UA Iso-Chill fabric on interior lining & ear loops feels cool to the touch for as long as you wear it
Structured design sits up off the face & lips for added comfort & breathability
Fabric is soft & smooth for next-to-face comfort & moves moisture from your mouth to the insert layer
Lining fabric extends up & is strategically shaped to lay flat across the bridge of your nose
Soft, adjustable nose bridge to secure it across the face
Stretchy ear loops & side panels for a more comfortable fit
Includes washable, anti-microbial carrying pouch with locker tag to mark your name or number
Intended for daily wear & use in sports by healthy individuals
Non-medical & non-surgical mask, does not protect against viruses
If you feel uncomfortable while wearing: stop exercise, remove mask & if needed, seek medical attention
Ear loops built with durable, non-fraying fabric designed to reduce strain on the ear & prevent chafing
FIND YOUR SIZE: Use a flexible measuring tape to go from the bridge of nose to just past the ear canal
Hand wash & lay flat to dry

Mask is not for children under 2, please refer to local & national guidance for children 2+
Outer layer: 100% Polyester | Insert: 100% Polyurethane | Interior/ear loops: 77% Nylon/23% Elastane
Style #: 1368010 013

This Item Cannot be returned.
Customer Reviews
This product has not yet been reviewed.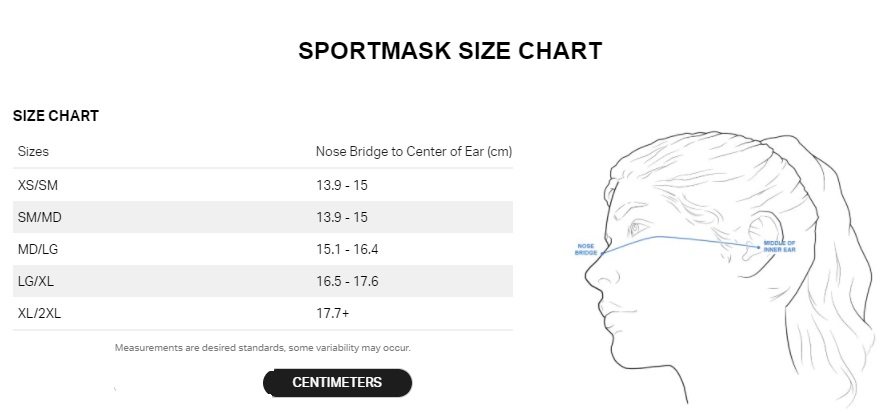 If for some reason you are unhappy with your purchase, please return your item to us in the original packaging with your receipt or delivery docket. We are happy to offer a full refund or exchange on unused items returned within 14 days of delivery.
Click here for full details of our Returns Policy.